Pro Southeastern Bella Natasha Cowie takes 6th at Reddick!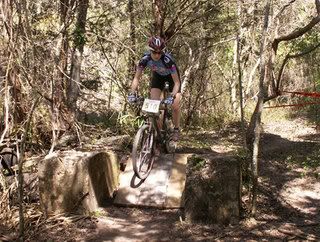 Tennessee's very own Natasha Cowie placed 6th in the first race of the 2007 South Eastern Regional Championship Series in Reddick, Florida, on March 11.
Natasha, who mopped up the course with the guys and finished 1st at the Columbia Cyclocross in January (see previous blog entry for photo), came out strong on a challenging course. We look forward to seeing her results this season!
Here's a course description of Reddick from Dustin Greer:
"The course was typical Razorback style: lots of twisty singletrack, tons of roots, and many, many dips and drops to give the trail a roller coaster feel. The flier was a misprint and all classes did the same 10.5 mile loop. The loop was very similar to the course used for the 12 Hours of Razorback just three weeks ago. It began with a grassy field start. The start line allowed riders to start 15-wide, but you had to funnel down to 2-wide in 50 yards which made things interesting and forced more than a couple of riders to do some bush-whacking. There was a narrow, off-camber hill just a minute into the course, which proved to stack up several of the classes. Then came a BMX-type section, followed by a longer gradual climb that took riders to the top of a hill overlooking the whole Reddick mining area. Then came probably the nastiest descent in the park. If you survived it, you were rewarded with fast singletrack for two miles before a little bit slower, more technical section came up. It featured some really tight, rocky turns in an area I have never ridden before in my six previous trips here. The famous Triple Dipper section comes with about 3.5 or 4 miles to go. It is more like the 7-dipper now after some additions. A lot of the trail was covered with some sort of oak leaves which were as slick as ice. It is known as the "Florida Ice." Most of the corners were slippery, but they all had two or three inches of exposed dirt/sand at the top of the berm that supplied some traction if you could stay up there. There was a lot of carnage on the slick leaves during Saturday's practice. Overall, it was one of the hardest, most physically demanding courses I have ever ridden."
:: RESULTS ::
Pro/Expert Women
1. Carolyn Van Vurst
2. Kym Flynn
3. Jamie Dinkins
....
6. Natasha Cowie
7. Philicia Marion
8. Shannon Morrison