The Tennessee Bellas kick off 2007!!
The Tennessee group of Velo Bella-KONA women kicked off 2007 with a Business, Biscuits and Gravy meeting January 21 at Café Loveless in Nashville, Tennessee. There were many new Bellas, including Natasha, a SE pro Bella, and Sandy, an expert Bella. Both are students at Sewanee.
On the roster for the year are many things, including a co-sponsored MTB race at Mousetail Landing with the Jackson Spokes. Stay tuned!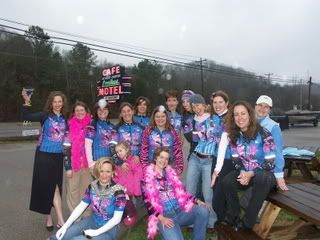 Labels: Tennessee group photo